How To Save Thousands A Year On Groceries | SwagBucks Coupons | Grocery Coupons
Food is a necessity, no matter who you are! I remember when there were days I was spending hundreds of dollars per WEEK on food for my family and I thought to myself, that's way too much for a family of four. So here are a few tips I've followed for the past two years that's saved me thousands a year on groceries.
When you sit down and truly asses what you really need, you'll quickly realize how much money is actually being wasted and these new methods will help your pockets and your sanity! Groceries are a necessity in every household, but spending a fortune isn't! Check out these simple, helpful tips on how to save thousands of dollars a year on groceries and how to set a grocery budget fit for your own budget.
1. Stop buying boxed snacks and packaged foods.
I can't stress to you enough on how much of my money went on processed foods and snacks. About 70% of my weekly grocery budget went on boxed crackers, boxed cookies, and so forth. First and foremost, they're not the healthiest options and they cost too much money. Secondly, because they are filled with lots of additives and stripped of the proper nutrients, they leave kids coming back for more. Can you say, cha-ching?
You'd be surprised at how much cheaper it is to prepare meals from scratch. Preparing meals in a crockpot or pressure cooker will save you time in the kitchen and money in your wallet. I also go into detail below on how easy it is to prepare your favorite store-bought snacks from home, by stocking up on basic baking essentials.
2. Buy fresh vegetables and fruits instead.
By stocking up on fresh vegetables, like cucumbers and carrots, or even fresh fruit like cantaloupe and strawberries, you'll end up saving a ton of cash. There are plenty of kid-approved fruits that are sweet in taste and also healthy. Not to mention, fruits are less than ten cent per serving, so keeping them stocked is never a problem.
You can try fruits like pineapples, apples, strawberries and blueberries. You can even freeze them for later and pick one day out of the week to prep these fruits to easily serve to your family when you're ready.
Amazon has an amazing grocery delivery service that's only $15 a month! They have fresh fruit and vegetable options, as well as fresh meats and seafood delivered right to your door step (available in select cities). You can sign up, here.
3. Stay away from named brands.
Contrary to popular belief, named brand foods aren't any better for us than brands we see while scrolling through social media or while watching TV. In fact, there are a ton of newer brands that are coming up with healthier options for our families, while the older named brands are sticking to their original recipes that may not be so good for us after all.
Skipping out on these all together will help your grocery budget tremendously. So what do you buy instead? Stock up on baking essentials and bake muffins, make granola bars and bake your own cookies in big batches to have available throughout the week.
You'd be surprised that you ALREADY have most baking essentials in your pantry anyway. Always keep some all-purpose flour around, baking powder, sugar, milk and butter around – and you'll always be prepared to bake healthier and cheaper alternatives to your favorite name-brand snacks.
4. Don't go to the store on an empty stomach.
It may sound funny, but
studies
show that going grocery shopping on an empty stomach may tempt you to buy more high-calorie foods than usual. Everything in the store looks and sounds good when you're hungry, causing you to rack up on more than necessary, which adds up at the checkout counter.
5. Use coupons!
Coupons are a life saver, especially coupons sites that give you cash back.
Swagbucks
is an awesome tool to help you save on grocery shopping, plus they give you CASH back on things you have to buy anyway. How cool is that?
Swagbucks
is an online tool that allows you print coupons to use in-store and they also have an online library and promo codes available for your use. You can download the Swagbucks mobile app,
here
.
I would also advise you to
download the browser extension
, which will automatically populate coupons for you as you shop online, at any online retailer – ensuring that you never miss out on an opportunity to save! The best part,
Swagbucks
gives you cash back on top of your coupon savings.
Download the browser extension today and get a $10 bonus
!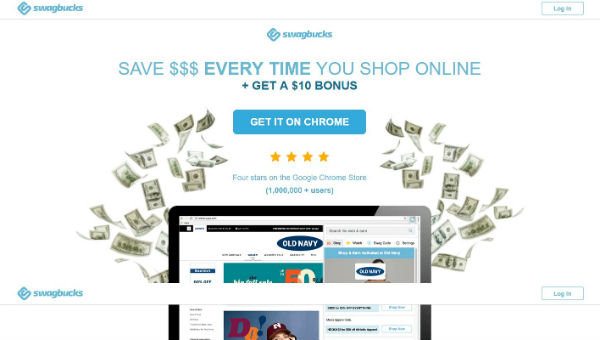 6. Write A List And Stick To It!
It's so important to write out what you need and what you want and don't want to spend. Lists help with being prepared BEFORE you even enter the store. This helps you to go directly towards the things you intended on buying and helps you skip out on the things you don't.
If you're ready to save thousands a year on groceries, then I suggest you start following these tips on your next grocery trip and pay attention to how much you've saved by buying only the necessities. Don't forget to get your
$10 bonus
with
Swagbucks
as well!
xo,